Dogs
History and Standards
Available Dogs
Puppies
Health Records
Groenendael
Chittaprasad Jairam du Volant
Tervuren
Aanandi
"Pinkie" Ashwini
"Devi" Bhagavathi
Christa
Carmella
Dior
Dru
Gabbit
Jahnu
"Savannah"
Tervuren (Co-owned)
"Radha" Cantata
"Brodie" Bajrang

Rescues
Kylie's Shambhavi Rose
Litters
Basquelaine 'A' of Intention Hill
'B' of Intention Hill
'C' of Intention Hill
'D' of Intention Hill
Intentions
Litter Plans
Healthcare & Research
Cancer (Artemisinin and Other Info)
Raw Feeding
Vaccinations
Early Spay & Neuter
Parasites & Remedies

Training
SAR Articles
Recommended Reading
Accomplished Belgians
Resources

Breeders of
Working Belgians
Groenendael
Tervuren
Malinois
Laeknois

©2016 Tracy Wessel
Intention Hill


Promote Your Page Too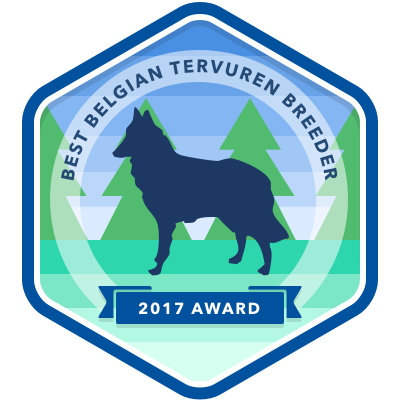 Website Award
Vetary has analyzed top Belgian Tervuren breeders and cross referenced positive social mention data with top analytics platforms. Your site was a clear winner with U.S. pet owners over the last 12 months. For context, Vetary awards breeders with best-in-class online buzz, content, visuals, and most importantly, a strong cause and devotion toward their breed of dogs.
"Devi"
Basquelaine Bhagavathi of Intention Hill
Brood Bitch / SAR / Ranch Work
Location: Washington
Owner: Intention Hill

Color: Mahogany
Weight:
Height:
AKC Number:
DOB: 10/02/13
OFA:
CERF:
Devi is from the B of Intention Hill litter. I chose her to keep in partnership because I liked her calm and focused demeanor. She is different from my other dogs in that she seemed a bit softer as a puppy, but not lacking in drives, and that she seemed overall calmer. I like this to ensure I have a variety of presentation in the family. She is also a lovely deep brown/mahogany, probably like her sire Gabbit.
Devi returned to me at three years of age. I've been largely impressed with her character, and her stability with a major life change at three years. I intend to start her in SAR work unless I find a suitable home. While I have no sense of urgency to place her, and have not ruled out using her in breeding, I also find that Devi would be most happy wtih her own devoted person, and her own jobs. She longs to work full time and serve her person. Devi has been back with me for several months, and has been good in my house. She's learning basic obedience, and appears quite brilliant. I will proceed with her obedience training, and try her for some element of detection, whether in sport or SAR. She's also been started on sheep.
Litter updates from the B of Intention Hill litter are posted here Facebook Page.
Click here to view her full pedigree on Working-Dog.eu.