Dogs
History and Standards
Available Dogs
Puppies
Health Records
Groenendael
Chittaprasad Jairam du Volant
Tervuren
Aanandi
"Pinkie" Ashwini
"Devi" Bhagavathi
Carmella
Dior
Dru
Gabbit
Jahnu
"Savannah"
Tervuren (Co-owned)
"Radha" Cantata
"Brodie" Bajrang
Christa

Rescues
Kylie's Shambhavi Rose
Litters
Basquelaine 'A' of Intention Hill
'B' of Intention Hill
'C' of Intention Hill
'D' of Intention Hill
'E' of Intention Hill
Intentions
Litter Plans
Healthcare & Research
Cancer (Artemisinin and Other Info)
Raw Feeding
Vaccinations
Early Spay & Neuter
Parasites & Remedies

Training
SAR Articles
Recommended Reading
Accomplished Belgians
Resources

Breeders of
Working Belgians
Groenendael
Tervuren
Malinois
Laeknois

©2016 Tracy Wessel
Intention Hill


Promote Your Page Too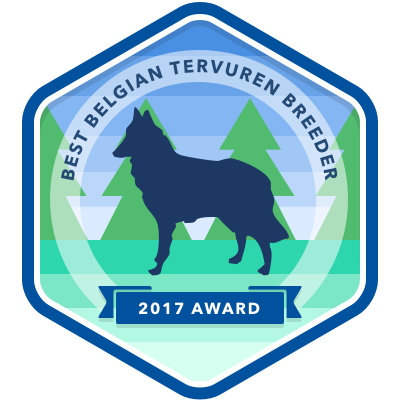 Website Award
Vetary has analyzed top Belgian Tervuren breeders and cross referenced positive social mention data with top analytics platforms. Your site was a clear winner with U.S. pet owners over the last 12 months. For context, Vetary awards breeders with best-in-class online buzz, content, visuals, and most importantly, a strong cause and devotion toward their breed of dogs.
'D' of Intention Hill

Whelped May 1, 2016
Pregnancy confirmed by ultrasound. Updates will be posted to this Facebook Page.
Jahnu du Domaine de Vauroux
(click here for more info about Jahnu)

Ventadour de Condivicnum (ML)
x
Glamour du Domaine de Vauroux (TV)

Color: Mahoganny
Weight:60lbs
Height:25 inches
AKC Number: DN42953201
French KC: LOF258447
DNA (AKC): Pending
DOB: 10/15/2014
OFA: Prelims Submitted (reviewed by Dr Cheryl McDermott)
CERF: Pending

"Savannah"
Basquelaine Cat On The Scent, CGC, SAR
(click here for more info about Savannah)

Ch Gaelera BigMtn Brennerain, SAR
x
Ch Hexen House Iserah

Color: Fawn
Weight: 45lbs
Height: 22.5 in.
AKC Number: DN185040/01
DOB: 04/07/2007
OFA: BT-5460G45F-VPI HIPS GOOD
BT-EL2695F45-VPI ELBOW NORMAL
CERF/CAER: 2011, 2012, 2013, 2015 (Paul Scherlie)
More about this litter:
D Litter of Intention Hill

Promote Your Page Too

On May 1, 2016, Savannah delivered eight really lovely puppies for conformation, herding, SAR, obedience, agility and other sports. One puppy presents as suitable for IPO or Ring from a club level. Jahnu is 25% working line, and Savannah is exceptional in her drives for reward based endeavors, like agilty, SAR, IPO, and obedience.

With any puppy from Savannah, I expect excellence in rewardable behaviors. In Montana, Savannah assisted me with bringing sheep home through the swamp after numerous predatory incidents, and is also one of my daily chore dogs on my sheep farm.

With Jahnu, the toy drives are not as high, but the balance is quite remarkable. He does have strong prey drive. He works sheep in a very sane and extremely balanced and inutitive way. He is the consumate professional on sheep.

And the Belgian Shepherd is after all, a SHEEP dog. You can expect to see Jahnu at herding trials. Below is a video of him working with Lynn Leech. I asked her to handle him so I could video. Note that he had never met her before, and demonstrated excellence in character.
Savannah's Health clearances are here with the exception of her latest CERF results, which are normal, from Dr Scherlie. She is thyroid normal from Dr Dodds lab. Jahnu has preliminary OFA xrays, with excellent hips and normal elbows. I have posted a copy of these results on the D Litter Facebok Page here.
Jahnu du Domaine de Vauroux
Ventadour de Condivicnum (ML)
Laouen de Condivicnum (TV)
Isar du Royaume de Bucksye
I'Kiss You de Condivicnum (TV)
Rama du Domaine de Vauroux (ML)
Lift de la Terre Aimée (ML)
Orange du Domaine de Vauroux (ML)
Glamour du Domaine de Vauroux (TV)
Dalton du Domaine de Vauroux (ML)
"Bob" Sabrefield A Class Act With Dealois (ML)
Utha de Valldigna (ML)
Ella du Domaine de Vauroux (ML)
"Bob" Sabrefield A Class Act With Dealois (ML)
Utha de Valldigna (ML)
"Savannah" Basquelaine Cat On The Scent, CGC, SAR
Ch Gaelera BigMtn Brennerain, SAR
Ch Bergerac Brigadoon, PT
Opium Van De Hoge Laer at Corsini
Bergerac Gentle Thoughts
Klaar Perfect Gaelera
Ch Perfect Of The Two CD
Ombre De La Quievre
Hexen House Iserah
Loucky de la Maison du Bois
Grimm Van De Hoge Laer
Hisis De La Maison Du Bois (GR)
Tchai van de Hoge Laer
Horry De La Clairiene Aux Louves
Kleo Van De Hoge Laer
D Litter Health Record
D Litter of Intention Hill
Jahnu du Domaine de Vauroux x "Savannah" Basquelaine Cat On the Scent
whelped May 1, 2016


Puppy

Testicles

BAER

CERF

Hips

Elbows

Cardiac

Thyroid

Teeth

EP
Cancer / Autoimmune

Notes

"Matisse" Devak (green)
2
not available
C/S
fawn, (Washington agility, carting)
"Yuki" Divya (pink)
n/a ♀
not available
C/S
fawn, High Prey Drive (Washington, agility)
Dominique (purple)
n/a ♀
not available
C/S
fawn, Slow to complete pigment on gums and nose. Corrected with mineral supplements. (Canada, obedience, nosework)
Dior (gold)
n/a ♀
not available
C/S
fawn, High Prey Drive (Washington, SAR)
Dru (blue dot)
2
not available
C/S
fawn/mahogany, (Washington, herding, conformation)
"Simba" Dakarai (sky blue)
2
not available
C/S
fawn (Texas, agility, companion)
Daaruk (sky blue)
2
not available
C/S
light fawn, pasterns dropped for one week, came up normally (Virginia, SAR)
Dulcibella (yellow)
n/a ♀
not available
C/S
fawn/mahogany, Sweet, easy puppy (Washington, companion)